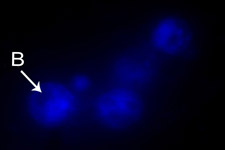 Confocal microscopy imaging of nano-screenMAG/B-ARA nanoparticles after uptake in prostate cancer cells (Du-145).
(Data kindly provided by Badr Haitham and Dr. Joerg Hoheisel DKFZ-Heidelberg, Germany)
nano-screenMAG - is an aqueous dispersion of magnetic-fluorescent nanoparticles available in hydrodynamic diameters of 100 nm, 150 and 200 nm.
nano-screenMAG particles consist of a magnetite core which is first covered by a lipophilic fluorescence dye. A second layer envelops the particle with a hydrophilic polymer which protects the particles against aggregation by foreign ions. Terminal functional groups such as ion-exchange groups or reactive groups for covalent immobilization can be used for binding to biomolecules.
NOTE: The fluorescence of the nano-screenMAG particles is only detectable on the same side where the excitation takes place.
Please note that there is a difference in fluorescence observation between dissolved fluorescence molecules and solid fluorescence particles. Fluorescence spectrophotometer with a fluorescence detection unit with an angle of 90° to the excitation source will detect no or only weak fluorescence signals.
nano-screenMAG-affinity - bioaffine ligands are covalently bound to the magnetic-fluorescent particles. High selectivity and high capacity make these products an ideal tool for the isolation or detection of specific biomolecules.