Description
Magnetofection™ is a novel, simple and highly efficient method to transfect cells in culture. It exploits magnetic force exerted upon gene vectors associated with magnetic particles to draw the vectors towards, possibly even into, the target cells. In this manner, the full vector dose applied gets concentrated on the cells within a few minutes so that 100% of the cells get in contact with a significant vector dose. This has several important consequences:
Greatly improved transfection rates in terms of percentage of cells transfected compared to standard transfection.
Up to several thousand fold increased levels of transgene expression compared to standard transfections upon short-term incubation.
High transfection rates and transgene expression levels are achievable with extremely low vector doses, which allows to save expensive transfection reagents.
Extremely short process time. A few minutes of incubation of cells with gene vectors are sufficient to generate high transfection efficiency, compared to several hours with standard procedures.
Magnetofection™ Reagents
As the manufacturer of the Magnetofection™ technology, chemicell offers two types of ready-to-use Magnetofection™ reagents.
PolyMAG is a universally applicable magnetic particle preparation for high efficiency nucleic acid delivery. It is mixed in a one-step procedure with the nucleic acid to be transfected and has been used successfully with plasmid DNA, antisense oligonucleotides and siRNAs.
CombiMAG is a magnetic particle preparation designed to be combined with any commercially available transfection reagent such as polycations and lipids and can be associated with plasmid DNA, antisense oligonucleotides, siRNAs or viruses. It allows you to create your own magnetic gene vector based on your favourite transfection reagent.
Nucleic Acids Dose Response and Transfection Kinetics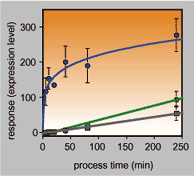 Transfection kinetics: NIH 3T3 cells were incubated with GenePorter™ (Gene Therapy Systems) ± CombiMAG with and without positioning on the MagnetoFACTOR plate for the indicated time spans. Luciferase expression was assayed after 24 hours.
| | |
| --- | --- |
| | paramagnetic vehicle plus magnetic field |
| | paramagnetic vehicle no magnetic field |
| | standard gene transfer |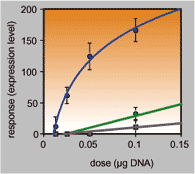 Dose response profile in NIH 3T3 cells using Lipofectamine™ (Invitrogen) ± CombiMAG with and without positioning on the MagnetoFACTOR plate for 15 min. Luciferase expression was assayed after 24 hours.
Magnetofection™ is generally applicable for adherent cells and has been tested with a variety of immortalized cell lines and primary cells listed below. If a particular cell type or cell line is not listed this does not mean that Magnetofection™ would not work. Also for the cells listed, some reagents have not been tested so far, as indicated by "n.d." (not determined).
The CombiMAG reagent can be combined with any polycationic and lipidic transfection reagent, and also with adenoviral and retroviral vectors. In some cases, references are made in the footnotes to very successful combinations with commercially available reagents that have been tested so far.
Primary human umbilical vein endothelial cells positioned on the MagnetoFACTOR plate were incubated for 15 min with a Cy3 fluorescencelabeled antisense-oligonucleotide complexed with Effectene™ (Qiagen; left) or Effectene™ + CombiMAG (right).

(Data kindly provided by F. Kroetz. Ludwig-Maximilians University Munich)
Storage:
All components of the Magnetofection™ kit should be stored at room temperatur (20-25°C). After first use store the kit at +4°C.

Do not freeze the magnetic nanoparticles


Do not add anything to the stock solution of magnetic nanoparticles


Shipping Conditions: Room Temperatur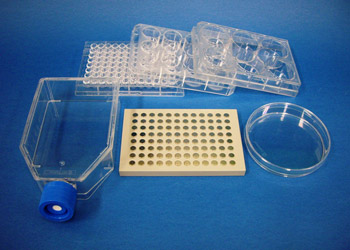 MagnetoFACTOR-96 plate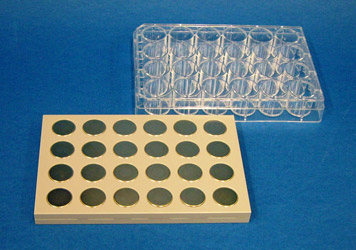 MagnetoFACTOR-24 plate
The MagnetoFACTOR-96 plate its special geometry not only produces strong magnetic fields under each well of 96-well plates but is also applicable for other plate formats T-75 culture flasks, 6- and 12-well plates. In the larger plate formats, the MagnetoFACTOR plate will produce a pattern of higher and lower densities of transfected cells according to the geometry of the magnetic field lines. The MagnetoFACTOR-24 plate is special designed for the 24-well format.
The MagnetoFACTOR plates are compatible for well plates of the most manufacturer.
SPECIAL OFFER
As an introductory offer you will receive one vial each of PolyMAG and CombiMAG sufficient for 200 µg of DNA each for free in combination with the purchase of the MagnetoFACTOR plate. This will enable you to optimize your Magnetofection™ in up to 3000 transfection experiments (96-well format).